22.Tama River in Musashi Province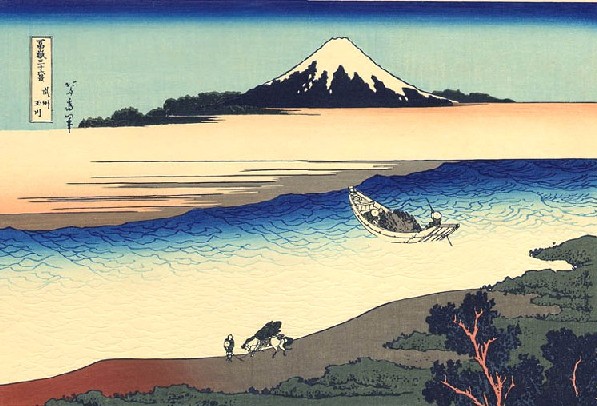 In Edo Period, when the author of "Thirty-Six Views of Mount Fuji" Katsushika Hokusai (1760-1849) lives, there were the only two bridges on Tama River, the Rokugo Bridge (Oota-ku and Kawasaki-shi) and the Mannen Bridge (Okutama-cho and Ome-shi).



Because of the military defense reasons, the Edo shogunate did not build so many bridge over the rivers.
Besides, in Japan, there was a culture crossing with a ferryboat on a big river, and the Tama River had the many ferry landing including Haijima Ferry, Koremasa Ferry, and Noborito Ferry.
The ukiyo-e of 'Tama River in Musashi Province' would also depict the middle basin of the river. 
The waves on the near side are represented by only unevenness without coloring. The technique is called as Karazuri (空摺り, empty printing)
Previous
Next