Katsushika Hokusai who created the famous great wave painting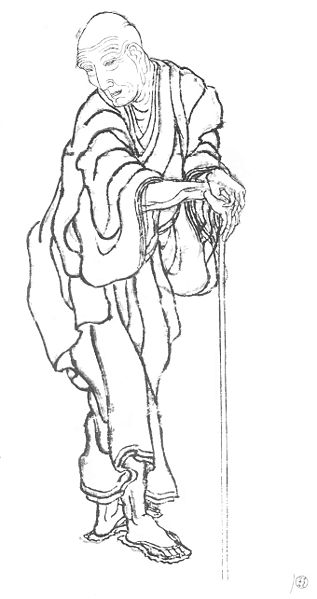 His printmaking works still have inspired the artists and the creators. In 1960, celebrating his 200th birth anniversary, he was honored as the cultural master in the world.
Biography and the career of Katsushika Hokusai
Early life and before becoming Eshi(a painter)
In 1760, Katsushika Hokusai was born in Honjo, Edo. The downtown area Honjo was called "Katsushika" in Edo Period and it is said that he named himself it as the painting name in later years.
He was interested in drawing a picture when he was six . His real name was Kawamura Tetsuzo (川村鉄蔵. In later, Nakajima Tetsuzo 中島鉄蔵). After about eight years, he worked as Hori-shi(carver for relief printing), and it made him desire to draw by himself.
Entering Katsukawa School
Hokusai became a pupil of Katsukawa Shunsho (勝川春章)and trained as Katsukawa School in 1778. He received his pen name Katsukawa Shunro (勝川春朗)and entered the stage of ukiyo-e.
Related Post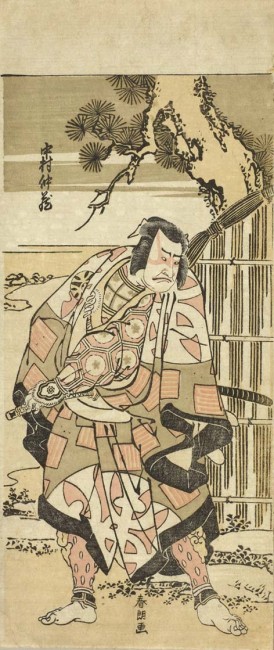 Until the age of 35, he drew, as the artist of Katsukawa School, the pictures of kabuki actor, children, sumo wrestler, and famous sightseeing place.
At that period, he also learned from Kano Scool, Tosa School, Chinese paintings, and Western paintings in secret.
He withdrew from Katsukawa School in 1794 and used painting name "Tawaraya Souri"(俵屋宗理). It was the name of "Rimpa"(琳派) but he was never to be obsessed by the way of the school. He established his own Souri style. It was the pictures of a beautiful woman with an oval-faced, small eyes and a mouth, and a slender shape.
Related Post
Tawaraya Sotatsu's screen painting of Wind God and Thunder God
Hokusai gave the name of Sori to his disciple and became to name himself as "Hokusai Tokimasa"(北斎辰政) in 1798. This was the first time when he used "Hokusai".
He was independent of Rimpa school and declared that he wouldn't belong to any schools as an individual artist. Around this period, he made the landscape printings with Western style, the illustrations of books, and many original artworks(Nikuhitsu-ga, 肉筆画).
"Hokusai Manga" and "The Great Wave off Kanagawa"
The pen name of "Katsushika Hokusai" was only used from 1805 to 1810.  After changing Katsushika Hokusai to "Taito"(戴斗), he began to work on Hokusai Sketches(Hokusai Manga, 北斎漫画).
Hokusai Sketches were one of the triggers for Japonism. When Japanese exported the pottery, they used the papers of Hokusai sketches for packaging. Because ukiyo-e was a flyer in Edo Period.
Related Post
"Gakyo rojin manji"(画狂老人卍)
Before the publishing of "Thirty-Six views of Mt. Fuji", there was no area of landscape in ukiyo-e and Katsushika Hokusai made it popular at first as an artist.
But he almost washed his hand of woodblock printings in 1834 after completed many artworks including "A Tour of Japanese Waterfalls (Shokoku Takimeguri,諸国滝廻り)", "One Thousand Images of the Sea/Oceans of Wisdom (Chieno Umi,千絵の海)" and "One Hundred views of Mt. Fuji"(Fugaku Hyakkei, 富嶽百景). At that time, he was 75 years old  and his painting name was "Gakyo rojin manji"(画狂老人卍, Old Crazy Painter Swastica). It is a name that seems to be his obsession to reach the summit of the art.
"Gakyo" represented "obsessed and crazy with painting", "rojin" was an old man, and "manji" had the meaning of his hope for living to be a hundred.
Since then Hokusai focused the artworks on the original paintings. The themes were animals and plants, religion, and history or stories of Japan and China. The self-portrait of him at the top of this page was about 80 years old.
The ceilling picture "Dragon" and "Raging billows angry waves" for the festival float in Obuse, Nagano prefecture, was one of the his masterpieces when he was 85 and 86. "Raging billows angry waves" evokes "The Great Wave off Kanagawa".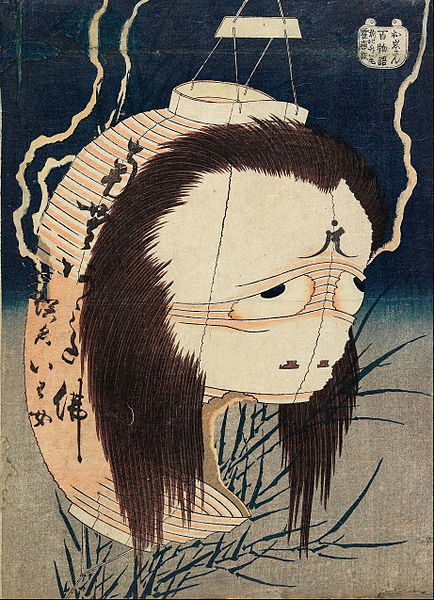 Though he was so eager to draw more pictures and to improve his technique of art, he died at 90 in 1849.
Hokusai drew last painting "Dragon flying over Mount Fuji" three manths before his death.
It seems that the dragon represents himself.
Related Post
Hokusai's last painting "Dragon flying over Mt.fuji"
Katsushika Hokusai's death haiku
As a soul
I'll stroll on the summer field
For a past time
Hokusai's artworks of painting
The stories of anecdote and interesting facts about Katsushika Hokusai
Hokusai changed his house 93 times in his life. He moved too much to be identified his address by the public office. 
He also often changed his pesudonym. He had 30 painting names through the life.
His daughter, Ei (栄), inherited the talents of Hokusai and bacame ukiyo-e artist. The penname was Katsushika Ōi (葛飾応為). She learned the technique of the Western shadow method. His father praised her as 'I am not much for her with portraying beautiful women. For the field, she drew really skillfully and adequately.
He loved sweets, and visitors always brought 7 or 8 daifuku rice cakes.
He never drink and smoke. Furthermore, he hate smoke.
He ordered out at every meal. He didn't cook. 
He did not clean at all, and scraps of paper and food packages were scattered all over the room. The daughter also did not clean, and they drew pictures in the garbage.
On his deathbed, "10 years…, no, just 5 years,  if I would live longer, I could  become a real painter…" he said.
Hokusai's sigunatures (painting names)
春朗(Shunro):1779-1793?
群馬亭(Gunmba-tei):1785-1793?
百琳宗理(Hyakurin-souri):1795-1797
宗理(Souri):1795-1798
北斎宗理(Hokusai-souri):1797-1798
北斎(Hokusai):1797-1819
可候(Kako):1798-1811
辰政(Tokimasa):1799-1810
画狂人(Gakyo-zin):1800-1808
九々蜃(Kukushin):1805
画狂老人(Gakyo-rojin)1805-1806, 1834-1849
錦袋舎(Kintaisha):1805-1809
雷震(Raishin):1811-1815
戴斗(Taito):1811-1820
為一(Iitsu):1820-1834
前北斎為一(Zen-hokusai-iitsu):1821-1833
不染居為一(Fusenkyo-iitsu):1822
月痴老人(Getchi-rojin):1828
卍(Manji):1834-1849
土持仁三郎(Tuchimochi Nizaburo):1834
三浦屋八右衛門(Miuraya Hachiemon):1834-1846
The museums of Katsushika Hokusai's art in Japan