5.Honjo-tatekawa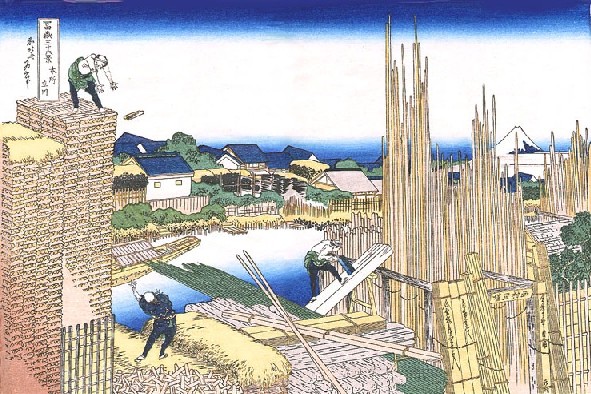 We can see the lively aspects of the Edo craftmen in this woodblock print of the series of "Thirty-Six Views of Mount Fuji"
Honjo, today's Sumida-ku (Tokyo), was developed as a new town after the Great Fire of Meireki in 1657 and the many lumber dealer stood in a raw in the city.



Katsushika Hokusai (1760-1849) drew the moment that the workman throws the wood up straight for the other.
The leant or stucked lumbers give the strong impression of the longitudinal in the woodblock printing. Mt.Fuji can be seen barely between the woods.
And some woods were written the letters of  "新板三拾六不二仕入". It means "laying the stocks of new 'Thirty six views of mount Fuji'. The publisher Nishimura Eijudo caluculatingly advertised their ukiyo-e prints.
Previous:
Next: