Awa, Naruto Whirlpool from "Famous Views of the Sixty-odd Provinces"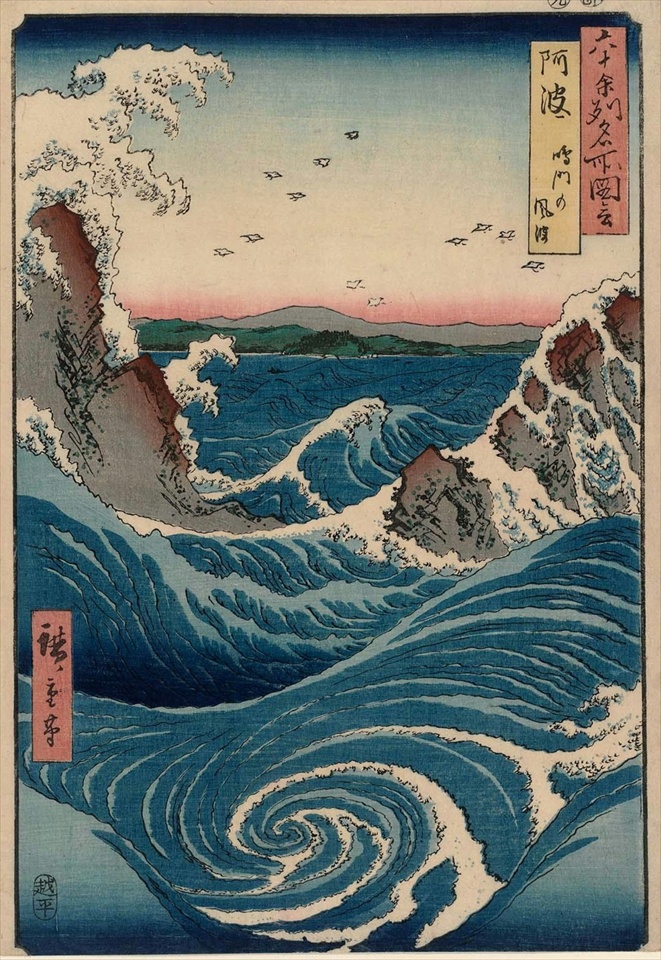 The swirling currents beat the angular rocks and splash water about. As if the whirlpool swallows up those who look the print.
It is one of the representative works of Utagawa (Ando) Hiroshige (1797-1858) who was the master‐hand at the landscape paintings in the ukiyo-e world. 
Hiroshige worked on the work of "Famous Views of the Sixty-odd Provinces" in his later life from 1853 to 1856. Unlike "Fifty-Three Stages on the Tokaido", he used a vertically long screen called Tate-e (立て絵). "One Hundred Famous Views of Edo" is also the type of Tate-e.
He used the vertically long rectangle effectively. We feel the depth of the whirlpool and the force of the wave. That gets us sucked down into the picture.
Among the right and left rocks, the green land Awaji Island extends. And the seabirds fly in the sky. The composition of the contrast of stillness and motion emphasizes the presence. 
The color of the wave also attract the people. It refers to as "Hiroshige Blue". It is said that his and Katsushika Hokusai's (1760-1849) beautiful blue influenced the impressionist. 
The Naruto whirlpools are the popular sightseeing spot even now. When you have an opportunity to visit Awaji Island or Tokushima Prefecture, why don't you experience the stage of the famous ukiyo-e print.
If you want to enjoy Japanese artworks of painting, print, and craft everyday, check the Twitter account of Masterpiece of Japan!