"Famous Views of the Sixty-odd Provinces"(六十余州名所図会)
Utagawa (Ando) Hiroshige (1797-1858) worked on the work of "Famous Views of the Sixty-odd Provinces" in his later life from 1853 to 1856. Unlike "Fifty-Three Stages on the Tokaido", he used a vertically long screen called Tate-e(立て絵). "One Hundred Famous Views of Edo " is also the type of Tate-e.
Sponsored Links
He completed this series with 69 pictures(68 old Japanese countries and Edo City) and table of contents. The series contains the famous Awa Naruto whirlpool in the part of Minamikaido.
It is said Hiroshige had referred to the work of Katsushika Hokusai's The Great Wave off Kanagawa  in drawing this picture. Also, Hokusai painted Mino 's Yoro Falls in "A Tour of Japanese Waterfalls" about 20 years before Hiroshge. It would be interesting to compare how two ukiyo-e artists represented the same waterfall.
The gallery of "Famous Views of the Sixty-odd Provinces"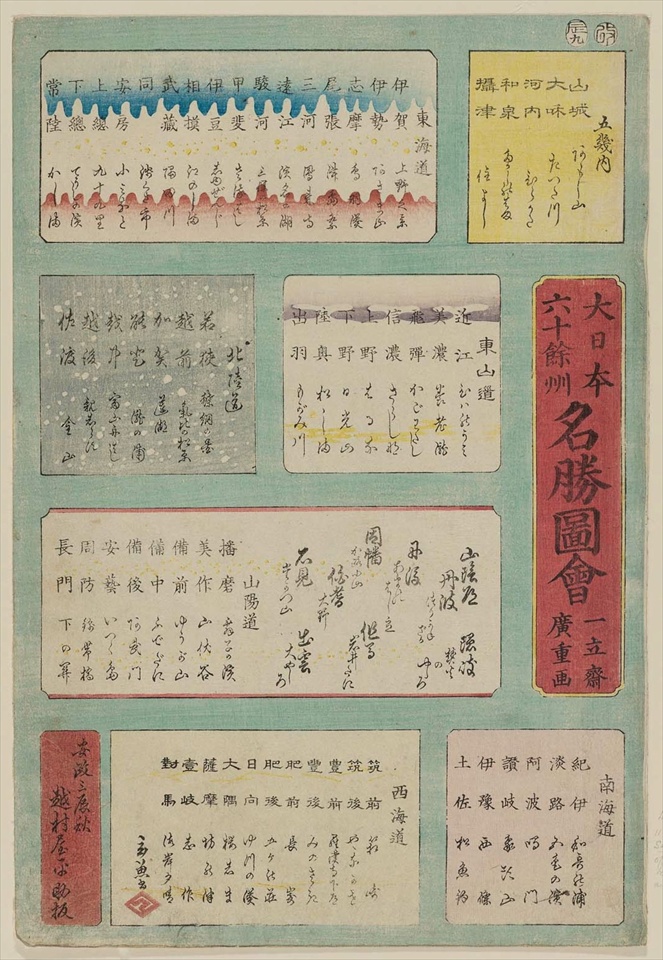 The Five Home Provinces
---
Tokaido
---
Tosando
---
Hokurikudo
---
San'indo
---
San'yodo
---
Nankaido
---
Saikaido
Hiroshige's Journey in the 60-Odd Provinces (Famous Japanese Print Series)

See also
Back to the page of Utagawa Hiroshige
Sponsored Links