2.The Store of Mitsui in Suruga-cho, the Eastern Capital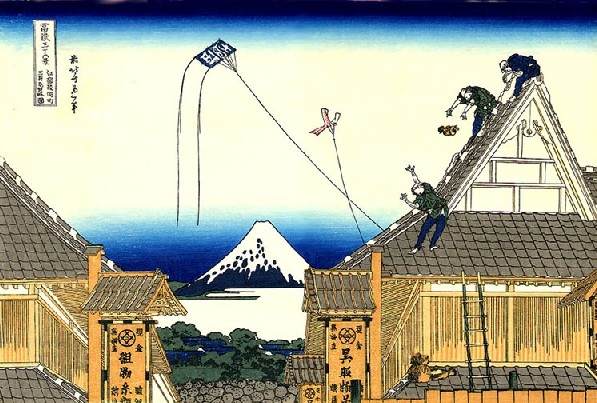 Mt. Fuji in the center separates the screen. By all rights, there should be the street under the image, but the part above the signboard is drawn.



It similar to 'Asakusa Hongan-ji temple in the Eastern capital' of the Kawara workmen and the kite show the hights of the clear sky.
Mt.Fuji, the roofs and the kite strings form a number of triangles, so they give a rhythmic impression for us. 
In the left kite we can see the letter of  "壽", which was a letter in the name of the publisher Eiju-do Nishimura-ya Yohachi(永壽堂 西村屋与八). It served as an advertisement.
The shop of Mitsukoshi was modernized and still in the same place, but high-rise buildings stand in front of Mt. Fuji.
Both side of the buildings belonged to the wealthy merchant Mitsui Echigoya that they engaged in the bussiness of kimono fabric. 
Suruga was the old name of the region where Mt.Fuji exsist. Edo people and Katsushika Hokusai (1760-1849) saw the mountain from the street and called it Suruga-cho.
Previous
Next
Back to The garalley of "Thirty-Six Views of Mount Fuji"