33.Fine Wind, Clear Morning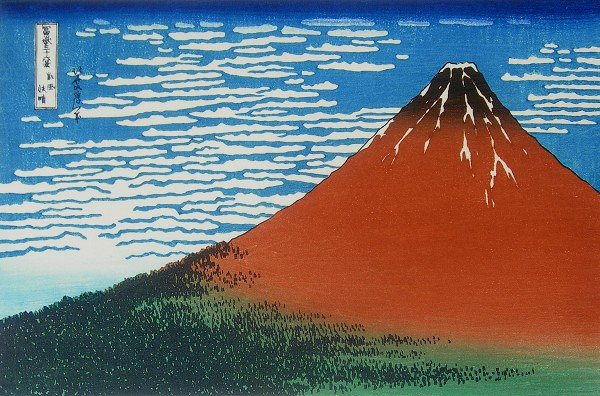 'Fine Wind, Clear Morning' (Gaifu kaisei, Red Fuji) is the famous Japanese painting as the work of big wave art 'The Great Wave Off Kanagagawa' in "Thirty-Six Views of Mount Fuji".



Against the background of the summer or autumn mackerel sky, the surface of Mt. Fuji is flushed by the morning sun.
The ukiyo-e artist Katsushika Hokusai(1760-1849) drew the ukiyo-e woodblock printing of an early morning moment filled with energy by making colors and composition very simple.
He also created the dense and dark atmosphere of  the sea of trees on Mt. Fuji by drawing trees in minute detail.
The clouds, remainingl snow, blurring are accented against the whole of the deep colors.
Though the ukiyo-e art makes a strong impression on us, we cannot still identify the point of the view to the red Fuji. According to one theory, he may have drawn from the the vew of the Lake Kawaguchi.
Previous
Next
Back to the gallery of "Thirty-Six Views of Mount Fuji"
Fine Wind, Clear Morning (Gaifu kaisei, Red Fuji) reprint for sale