Hokusai's outstanding Dragon painting in Obuse, Nagano Prefecture
The painting of "Dragon" on the ceiling of the festival float of Higashimachi is owned by  Hokusai Museum in Obuse City. Katsushika Hokusai (1760-1849) visited the small city four times. Even at the first visit, he was over eighty (the average life span of Japanese people at that time was about thirty-four!). "Dragon" and "Phoenix" was the artworks which he painted at his second visit. The "Phoenix" painting on the Higashimachi festival float led to "Phoenix that glares in all directions" on the ceiling of Gansho-in Temple in the city.
Though he was already a famous ukiyo-e artist after the success of the "Thirty-six Views of Mt.Fuji", the old great painter was always in financial difficulty. On top of that Great Tempo Famine (1833) had still remained and the Tokugawa Shogunate carried out Tenpo Reforms that it regulate luxury including kabuki and ukiyo-e. Hokusai was troubled with becoming to unable to paint pictures rather than financial problem. Then a wealthy merchant asked him to Obuse. According to one account, the highly‐educated merchant Takai Kozan (1806-1883) learned painting under Katsushika Hokusai when he was young. Kozan who was charmed by Hokusai's artworks decided to be a patron of him.
Hokusai was eighty-five when he visited Obuse for the second time in 1844. It took a half year to complete the ceiling painting of "Dragon" and "Phoenix". The background of "Dragon" is fiery red and that of "Phoenix" is dark indigo. The contrast of brightness and darkness have in common with the Chinese principles of Yin and Yang. The waves around the dragon is similar to "The Great Wave off Kanagawa".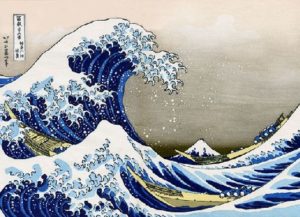 The violent waves, hot colors and dragon's piercing eyes. It's hard to believe the painter was eighty-five years old. The great power of the dragon is full of the screen.
If you want to enjoy Japanese artworks of painting, print, and craft everyday, check the Twitter account of Masterpiece of Japan!
You can also see the tweets on the sidebar!