Ancient Japanese memorial, pass on Tanka poems about death of friend, mother, and loved one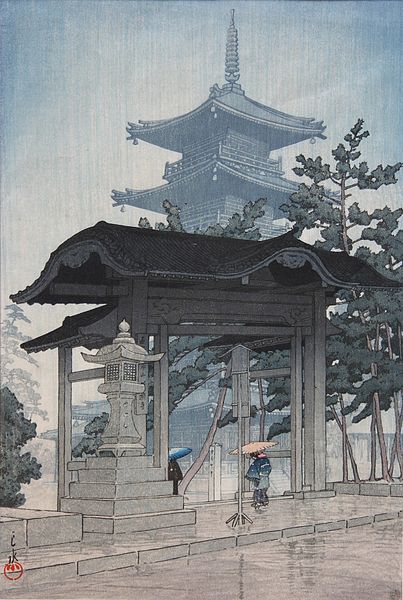 It would be common in any country or region to express the feelings of losing the important person as poems. In Japan, there is traditional fixed verse such as Tanka and haiku. And these poets have expressed sadness when their loved one died. 
Read also…
Haiku poems about death and rip by the famous poets
In particular, there are many works in which tanka shows emotions more than haiku, and their honest feelings stick into our hearts. I'll show you the memorial Tanka poems composed by famous or not Japanese poets.
<Japanese>
何時しかと  待つらむ妹に 玉梓の   言だに告げず  去にし君
Itsu shika / Matsu ramu imo ni/ Tamazusa no/ Koto dani tsuge zu/ Sarini shi kimi
<English>
When would you come back
The wife waited for you
But you passed away
Without telling anything
By a letter
*Sympathy poem for Hasetsukabe no Tatsumaro's death
<Japanese>
今よりは  秋風寒く  吹きなむを  いかにか独り  長き夜を寝む
Ima yori ha/ Akikaze samuku/ Fuki nam wo/ Ikani ka hitori/ Nagaki yo wo nem
<English>
From now
The autumn wind will
Start blow coldly
How can I sleep alone
During the long night
<Japanese>
鏡なす  吾が見し君を  阿婆の野の   花橘の  玉に拾いつ
Kagami nasu/ Wa ga mishi kimi wo/ Abano no no/ Hanatachibana no/ Tama ni hiroi tsu
<English>
As a mirror
I saw you
I pick up on the Abano Field
Your burned bones
Which like mandarin orange blossoms
<Japanese>
明日知らぬ  わが身と思へど  暮れぬ間の   今日は人こそ  かなしかりけれ
Asu shiranu/ Waga mi to omoe do/ Kurenu ma no/ Kyo wa hito koso/ Kanashi kari kere
<English>
Though I don't know
What will become of my fate
Today isn't over yet
I'm grieving
*When he lost his cousin Ki no Tomonori
<Japanese>
墨染めの  君が袂は  雲なれや   絶えず涙の  雨とのみ降る
Sumizome no/ Kimi ga tamoto ha/ Kumo nare ya/ Tae zu namida no/ Ame to nomi furu
<English>
Is the sleeves of
Your sumi-ink dyed clothing 
Clouds
As with tears
It rains incessantly
*For the one who was in mourning for the loved one's death
<Japanese>
つひに行く  道とはかねて  聞きしかど   昨日今日とは  思はざりしを
Tsui ni yuku/ Michi toha kanete / Kiki shi kado/ Kino kyo toha omowa zarishi wo
<English>
Though I heard
Everyone goes this road
Eventually
I didn't expect that
I'd be on it yesterday or today
<Japanese>
桜ちる  春の末には  成りにけり   雨間も しらぬ  ながめせしまに
Sakura chiru/ Haru no sue ni ha/ Nari ni keri/ Ama ma mo shira nu/ Nagame seshi ma ni
<English>
Cherry blossoms are falling
It have become
The end of spring
It have rained ceaselessly
I have seen
*When Daigo Emperor died
<Japanese>
さらでだに  露けき嵯峨の  野辺に来て   昔の跡に  しをれぬるかな
Sarade dani/ Tsuyu keki saga no/ Nobe ni kite/ Mukashi no ato ni/ Shiore nuru kana
<English>
Even though
I come to Saga Fields
Showing signs of dewdrops
I'm at the graveyard
And languish with tears
*Visiting the grave of his father Fujiwara Tadaie
<Japanese>
手すさびの  はかなき跡と  見しかども   長き形見に  なりにけるかな
Tesusabi no/ Hakanaki ato to/ Mishi ka domo/ Nagaki katami ni/ Nari ni keru kana
<English>
I thought that
The handwriting was
Just a amuse yourself
But it became
Long memento
Other themes of Tanka poets