Traditional Kiyomizu (Kyo)-Yaki ceramic for the lucky cat Maneki-neko
One of the most popular and traditional lucky item in Japan is Maneki-neko (beckoning cat). The lucky cat figurine has stood in the shops or homes for more than 300 years all over the country. Actually, the reason why the waving cat became to be loved is not clear.
According to one estimate, the fuedal lord Ii Naotaka (1590-1659) dropped Gotokuji Temple on the way back from the falconry because a waving cat invited him at the gate of the temple. When he received the treat and preaching, it suddenly started to rain so hard. Naotaka appreciated the treating and avoiding the shower, and he bestowed a large amount of money on the temple. 
From that, the people love to place the figurines of the waving cat in their shops or homes because they believed that the ornaments inviting the lucky. The Gotokuji Temple in Tokyo is really famous for Maneki-neko even now.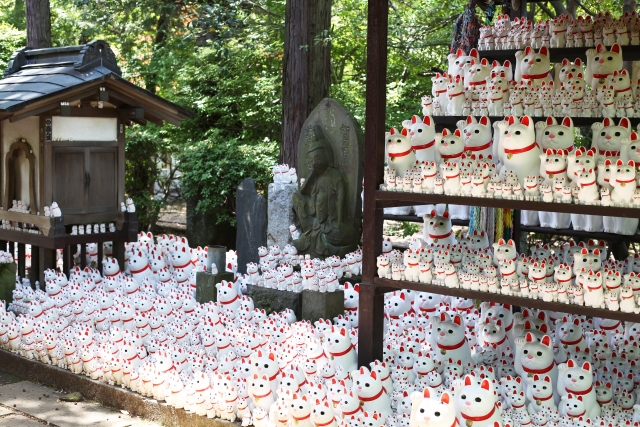 The lucky cat of traditional porcelain for your room!
Why don't you get the Maneki-neko of Kiyomizu-yaki which has a long history? The origin of the Kiyomizu-yaki pottery dates back more than 1200 years in Kyoto! The soft colors and warm appearance are the features of the traditional ceramic. 
The Maneki-neko of the Kiyomizu-yaki porcelain is so kawaii (cute)!
White

The white Maneki-neko is one of the classic. It will invite the good fortune.
Black

The Japanese people believed that a black cat drove away from the disaster and brought luck.
Red

Red was regarded as a color that smallpox and measles hated in Japan. So a red lucky cat represents an amulet or a charm against disease.
Yellow

The yellow beckoning cat will bring you the economic fortune. According to Feng Shui, west is the best position to place yellow object for the economic fortune.
Pink

The pink is regarded as the color of love in Feng Shui. So the pink lucky cat would bring you a good romance.
See also the lucky cat of Kutani-yaki from Ishikawa Prefecture.