Utagawa Kuniyoshi (1797-1861)
Utagawa Kuniyoshi (歌川国芳) was one of the ukiyo-e artists who worked extensively as a member of Utagawa School, along with Hiroshige (広重) and Kunisada (国貞).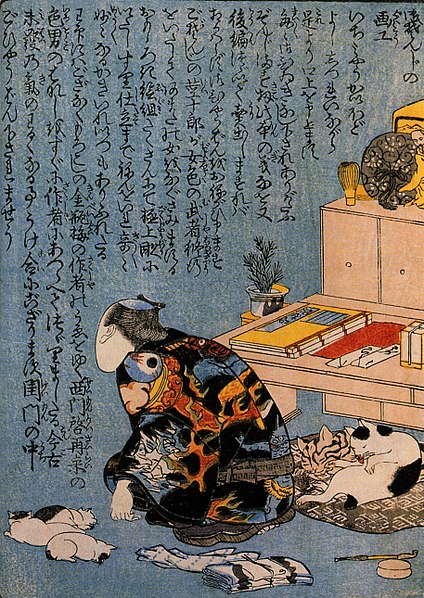 He established a unique world not found in other ukiyo-e artists. His talent of paint could be compared to Katsushika Hokusai(葛飾北斎). And thorough the life, he was a totally opposite person to Kunisada.
Biography
Long early days
 Kuniyoshi was born as a son of a dyeing shop in Nihonbashi, Edo. He was interested in painting from his young age and used to practice paintings as imitating the artworks of Kitao Shigemasa(北尾重政) and Kitao Masayoshi(北尾政美).
 When he was 15, he became a disciple of the first Utagawa Toyokuni(初代歌川豊国). However, unlike Kunisada, as a typical aggressive Edo person, he often did not match with his master.
Kunisada had already made his debut and attracted attention. Comparing with the senior disciple, Kuniyoshi had a hard time finding a publisher who publishes his own painting for more than 10 years. But he had continued practicing to draw.
"Musha-e artist, Kuniyoshi"
A turning point came to him in 1827. In this year the story of China "Water Margin" was booming among the people of Edo. During that time, "The 108 Heroes of the Popular Suikoden" that he drew skipped a hit.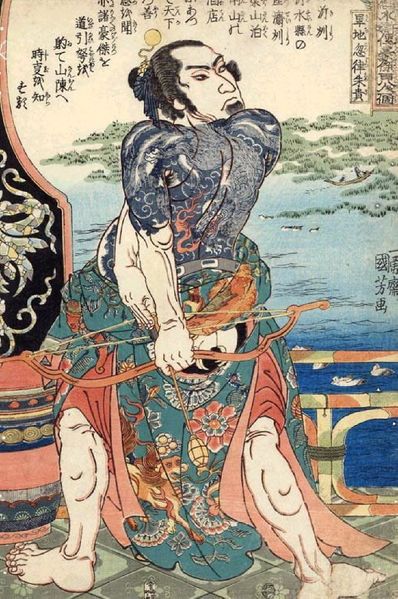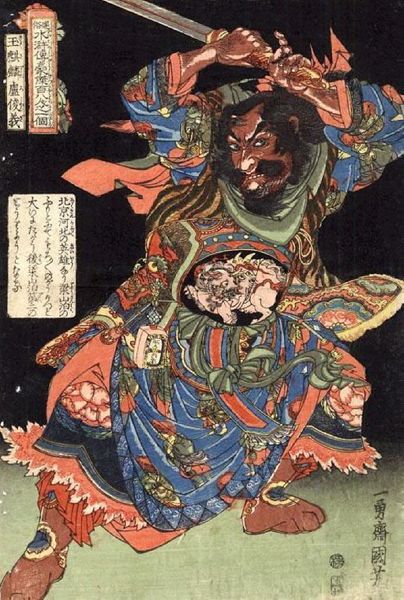 Especially, the impact and vividness of their tattoo took the Edo people captive and he also made the design.
He finally got an evaluation that his paintings of warriors(Musha-e) was outstandingly wonderful and the nickname "Musha-e artist, Kuniyoshi". Also from this time, he began to show his talent not only in Musha-e painting but also in landscape paintings, beautiful women portraits, and caricatures.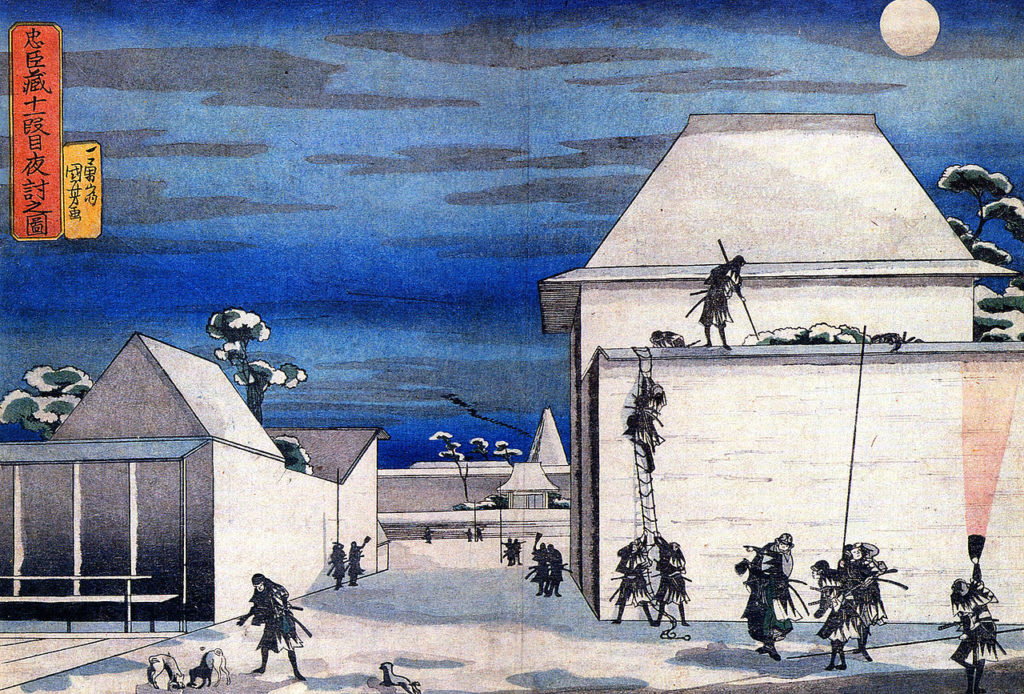 Original style
In 1873, he married Saito Sei (斉藤せゐ). And just then he changed his drawing name from "Ichi yu-sai" (一勇斎) to "Cho-ou-rou" (朝桜楼). 
He had a nice personality and more disciples than any other ukiyo-e artist. Tsukioka Yoshitoshi (月岡芳年) was one of his, and Kawanabe Gyosai (河鍋暁斎) also learned painting at Kuniyoshi School when he was 7 years old.
He pursued his own style greedily even after he succeeded as an ukiyo-e painter. The first of his characteristics is a strong impact. Especially the warriors, the youkai(monsters), the animals appearing in his paintings have the power that they are likely to start moving.
The second his feature is a caricature that devised the idea. He was an artist with playful and rich ideas to entertain the Edo people who buy pictures, and furthermore, he dodged the eyes of the shogunate to satirize society. 
As a last, he found a new way of drawing three successive pictures. Until then it was usual to draw a picture for one paper and to arrange them, he joined all the papers into a single. That made his painting more powerful.
Gallery of Kunihoshi's artworks
Utagawa Kuniyoshi's goldfish ukiyo-e prints(Kingyo zukushi)
Musha-e(samurai picture)
Giga(caricature) and cat
Fish, animal, bird, and imaginary creature
Various three successive pictures(triptyches)
Books about Utagawa Kuniyoshi