Kawase Hasui(1883-1957)
Kawase Hasui(川瀬巴水)  was a modern Japanese ukiyo-e woodblock print(shin-hanga) artist who played an active part in the early 1900s and the middle.
Unfortunately, comparing to Katushika Hokusai and Utagawa Hiroshige, he has not been so well-known in Japan. But he left 467 works of woodcut prints and received high praise from the other countries.
Kawase Hasui's biography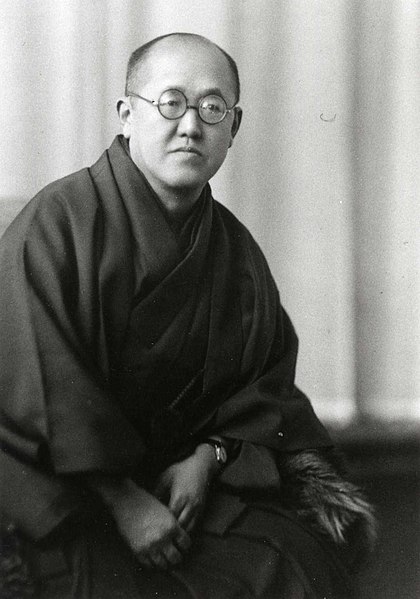 Kawase Bunjiro(川瀬文治郎) was born in Shiba, Tokyo in 1883 and had a real name of Bunjiro. At the age of 14, he had been taught a Japanese painting by Aoyagi Bokusen(青柳墨川), a disciple of Kawabata Gyokusho(川端玉章), then Araki Kanyu(荒木寛友).
However, at that time, opposed by his parents, he stopped studying pictures in one or two years. After that, Bunjiro helped the family business for a while. And it declined and when he was 26 years, he started to learn Western painting at Aoibashi Western painting school of Hakuba-kai.
Two years later, he became a disciple of Kaburaki Kiyokata(鏑木清方), and he got the name of Hasui from his master. In 1918, the same fellow, Ito, published "Eight Views of Ōmi" from Watanabe printing shop. 
The owner of the shop Watanabe Shozaburo(渡辺庄三郎) had proposed a technique that inherited the traditional ukiyo-e technique since the Edo period. Inspired by it, Kawase Hasui decided to move on with the new ukiyo-e style, shin-hanga(new woodblock printing.
In that same year, he published three works, Okane Road, Shiobara, Shiobara Hataori, and Shiobara Shiogama from the print shop. After that, he had traveled all over Japan and kept making landscape painting until 1957 when he died. His style was poetic and lyrical, so people called him "traveling poet".
The gallery of Kawase Hasui's woodblock printings
Tohoku region
Kanto and Koushin'etsu region
⇒Learn about the temple at Nikko
Chubu region
Kansai region
⇒Learn about the World Heritage temples in Nara
⇒Learn about the World Heritage temples in Kyoto
Sanin,Sanyo and Shikoku region
Kyushu region
If you want see his woodblock printings in your room…
Do you look for the posters of Hasui's artworks?
Books of Kawase Hasui