Fushimi Inari Shrine in Kyoto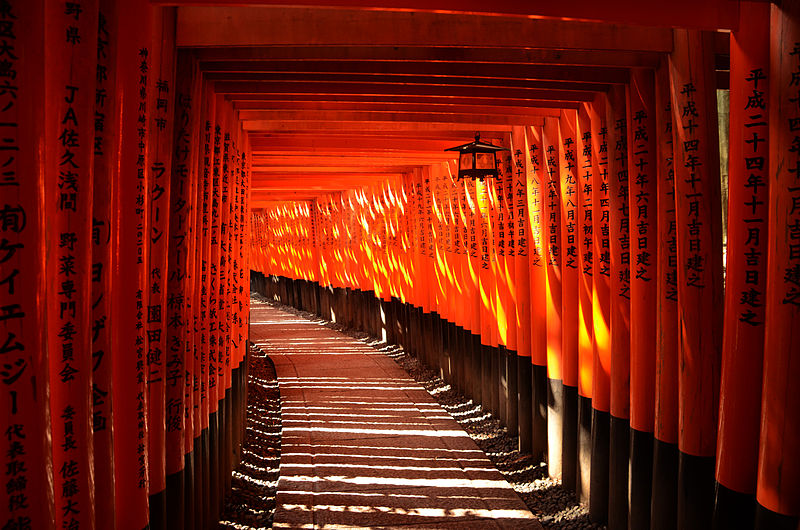 Fushimi Inari Shrine is located in the south part of Kyoto City where is the sightseeing spot with many historical architectures. 
In Kyoto, the Japanese travelers visit the temples of Kinkakuji (Rokuonji) or Kiyomizu-dera rather than Fushimi Taisha. But the shrine is the most popular temple or shrine in Kyoto among the overseas tourist.
When you visit the shrine, you would feel the unique atmosphere of the site. The biggest reason for that is, I think, the "Thousand Torii ". The red gates stand in a row… They make the air mysterious. 
The number of the visitor to Fushimi Inari at the New Year reach the top 5 every year. You shouldn't miss it when you visit Kyoto City!
What is Fushimi Inari Taisha?
Fushimi Inari is the head shrine of all Inari-jinja shrines (about 30,000) in Japan. It is a really high ranking shrine. Since Fushimi Inari is not a temple but a shrine, it deifies the gods.
Even the many Japanese people think the deity of an Inari shrine is a fox. Becuase the statue of the foxes are placed on the ground instead of a Komainu (guardian dogs).
But it's not true. The five gods in Fushimi Inari Shrine are Tanakano Okami, Satahikono Okami, Ukano Mitamano Okami, Omiyanomeno Okami, and Shino Okami. 
In 711, the gods became the deity of the shrine and the history started. So the shrine has more than 1300 years history. The people have worshiped Fushimi Inari as the shrine of the rich harvest, business success, the well‐being of the family, and wishes come true.
Then, what is a role of the Inari Fox?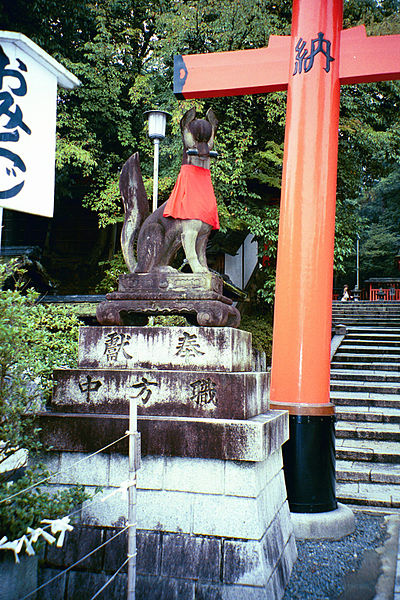 They are a messenger of the deity. And the fox statues in Fushimi Inari hold four things,  an ear of rice, scroll, key, and jade between the teeth. The fox on the upper photo holds the key. The ear of rice means the rich harvest. The scroll means wisdom. And the key and jade are the symbols of business success.
When it comes to Fushimi Inari Shrine, most of the people have the strong impression of the Thousand Torii gates and the fox. But, of course, it has the main shrine.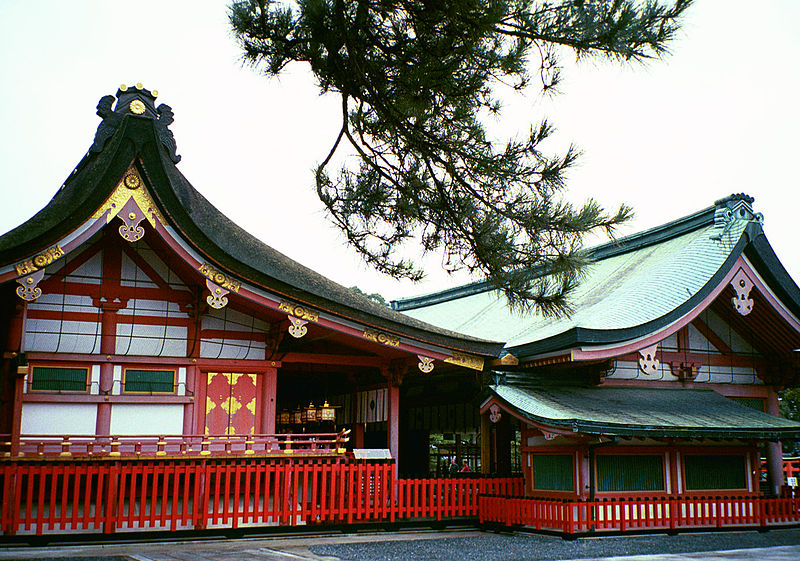 The five gods are enshrined in the architecture. There is the big torii gate before the main shrine. Not limited to Thousand Torii, you'll see the red gates here and there in the shrine. Actually, the correct figure of the torii in the ground of Fushimi Inari hasn't become clear yet. When a Japanese blogger counted for 7 hours, the number was 3381.
Map and access to Fushimi Inari Taisha
Train
Right next to Inari Station on the JR Nara Line
(2 stations/5 minutes from Kyoto Station)
⇒5 minutes' walk to the east of Fushimi-inari Station on the Keihan Main Line
Bus
7 minutes' walk to the east of the Inari Taisha-mae bus stop on the Minami 5 line
Car
・Around 20 minutes from the Kyoto Minami Interchange on the Meishin Expressway
・Around 10 minutes from the Hanshin Expressway Kamitoba Exit
Adress:68 Fukakusa Yabunouchi-cho, Fushimi-ku, Kyoto City, Kyoto Prefecture
Phone:075-641-7331