Yamadera (Risshakuji) Temple, famous for Matsuo basho's haiku poem and outstanding view
The famous Yamadera Temple in Yamagata Prefecture is a historical temple officially called "Mt. Hoju, Risshakuji Temple". The temple is famous as the place where the great haiku poet Matsuo Basho (1644-1694) visited and composed the cicada poem. Yamadera Temple standing on a cliff is a great sightseeing spot in the Tohoku region.
What is Yamadera (Risshakuji) Temple?
The foundation of Yamadera by the high priest Jikaku was in 860 during the Nara Period. 1,015 stone steps are lined up along the mountain surface topography with various expressions. The approach to the temple is also a way of the shugen-do's training where the annoyance disappears as you go up one step.
And it is also famous that Matsuo Basho visit the temple on the way of the journey of "The Narrow Road to the Deep North" and composed the following haiku poem.
<Japanese>
閑けさや 岩にしみいる 蝉の声
Shizukesa ya/ Iwa ni shimiiru/ Semi no koe
<English>
Ah, tranquility!
Penetrating the very rock,
A cicada's voice.
*Translated by Helen Craig Mccullough
Related Post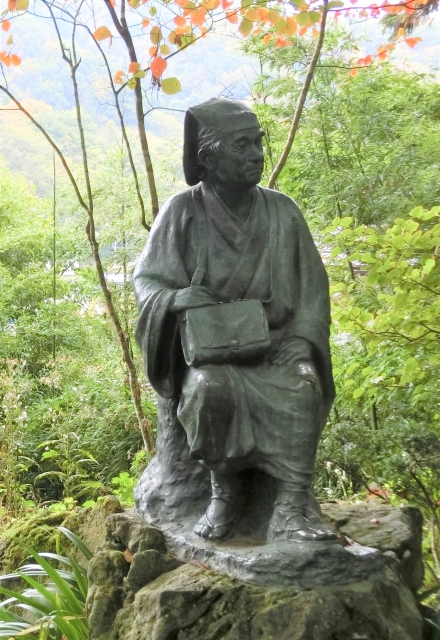 The Main Hall (Konpon-chudo)
The precinct surrounded by rich nature is 110 hectares wide, and there are more than 30 buildings in the site. The main hall (Konpon-chudo), which has been rebuilt and repaired, is the oldest beech wood building in Japan and has been designated as a national important cultural property.
The Godaido Hall stands at the most out of the cliff slope. You can enjoy the deep forest scenery from this protruding hole. The statutes of Five Great Reverent Wisdom Kings are enshrined here where Jikaku prayed for Peace reigns in the land. 
Related Posts
Nio-mon Gate (Gate of Deva)
This beautifully shaped gate is made of oak, and two Nio Guardians stands on the left and right in order not to enter the evil spirit.