What is the first shinhanga work?
Ukiyo-e flourished during the Edo period thanks to the success of artists such as Kitagawa Utamaro (?-1806), Katsushika Hokusai (1760-1849), and Utagawa Hiroshige (1797-1858), and boasted a high level of artistry and technique. When Western printing presses were introduced to Japan in the Meiji period, the industry went into decline.
Concerned about this situation, Shozaburo Watanabe (1885-1962) tried to inherit the artistry and techniques of ukiyoe. Fascinated by the world of prints, he re-printed Hiroshige's works, but his dream was to establish the new prints. Surprisingly, the first artist he chose for the prototype of the new prints was not a Japanese artist, but an Austrian, Fritz Capellari (1884-1950), who had come to Japan in 1911 to work for Lloyd Yusen Company on a commission to write a landscape of Shanghai, China.
In 1915, Shozaburo happened to visit his solo exhibition at a department store in Ginza and noticed the Japanese genre paintings by the artist. The two later met in person and agreed to work on a prototype of the new print.
The first of these new prints, which would later be called "Shinhanga" and gain great popularity abroad, was "Umbrellas aka Girls Returning Home In The Rain" by Fritz Capellari.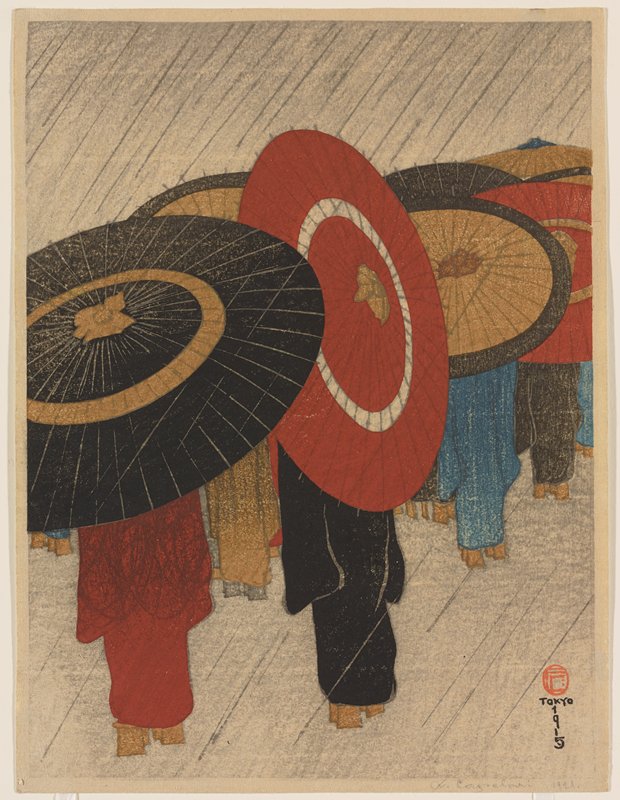 Shozaburo said of this work, "When we tried to create a composition based on objects of nature that could not be expressed by the brush and devised a printing technique, we were able to express in an ideal way a strange taste that had been impossible before. He (Capellari) was so impressed."
The two artists went on to print "Naked Woman Holding a Black Cat," "Woman in Snow," "Pekinese Playing with a Woman," and "Woman in Front of a Mirror (Standing)," among others. Having established his own style as a printmaker in collaboration with Capellari, Shozaburo finally decided to commission a Japanese artist.