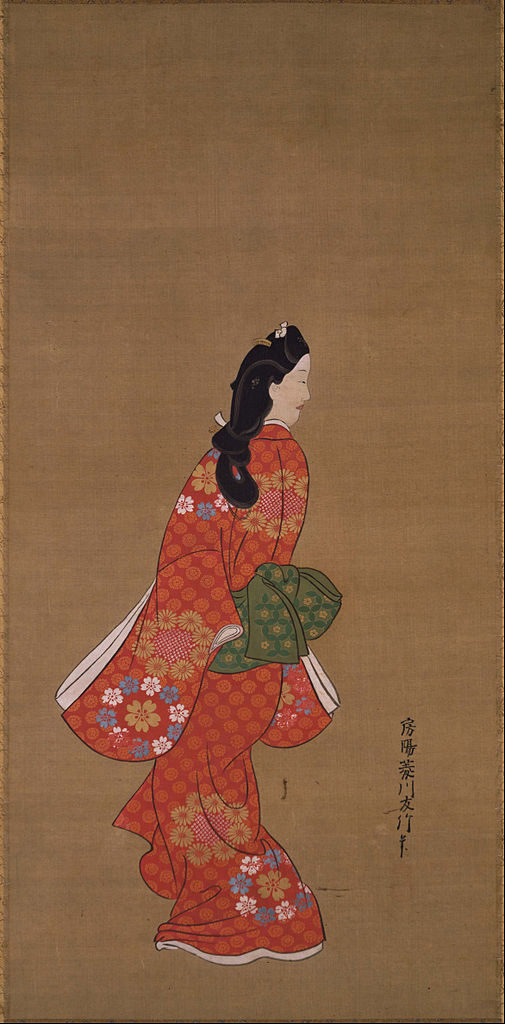 One of the most popular paintings which depict a beauty stands in Japan and it is also the most famous artwork by Hishikawa Moronobu (1618-1694). Hishikawa Moronobu was a ukiyo-e painter in the early Edo Period (1603-1868) and established the method of coloring for ukiyo-e woodblock (there was only a black print in Japan until then). "Beauty Looking Back" is an original painting in his later years.
Moronobu drew the whole body of the beauty at central bottom of the screen. There are plenty of space above her. The arrangement makes the woman so impressive. The vivid red kimono cloth on the plain background also emphasize her.
The patterns of the kimono are cherry blossoms and chrysanthemum (he was grown up as the son of the embroidery maker). And the flattering long sleeves show that she looks back quickly. Every portrait in Japan had been static but he gave vitality to them. A portrait of back view with a profile was an innovative idea. She wears the hairpin and comb on her hair (Tamamusubi Hair Style). The cloth, accessories and hairstyle were the latest fashion at that time. 
In 1948, "Beauty Looking Back" was adopted as the pattern for the first postage stamp after WW2 in Japan. It isn't exhibited in the museum usually.
Title:Beauty Looking Back
Size:63.0cm×31.2cm
Author:Hishikawa Moronobu
Year:17th century
Own:Tokyo National Museum
If you want to enjoy Japanese artworks of painting, print, and craft everyday, check the Twitter account of Masterpiece of Japan!
You can also see the tweets on the sidebar!